Hokusai - Ehon Sumida Gawa - Prints 3-8 and 3-9
---
| | |
| --- | --- |
| | |
| 3-9 Plovers on the Sumida river | 3-8 Farms at Hashiba |
---
Hashiba (橋場) is located north of Imado quarter. In the foreground of print 3-8 men are piling up wood for the kilns of Imado. The surface of Sumida river was famous for the plovers that could be spotted here, two of which are depicted in print 3-9.
---
In 1857 Utagawa Hiroshige designed this print displaying not only the tile kilns at Imado village in the foreground and the plovers often seen in this part of the Sumida river in the middle distance, but also the Hashiba ferry - not shown or mentioned in Hokusai's Ehon Sumida Gawa prints - in the further distance (click to enlarge):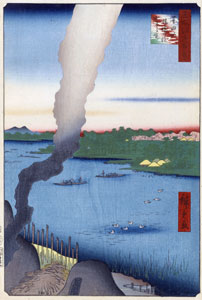 Tile kilns and Hashiba ferry, Sumida river
designed by Utagawa Hiroshige for his
"One hundred famous views of Edo" series (1857).
---
To indicate how fast and radical the changes were that Japan was about to undergo as a result of its forced opening up to the rest of the world in 1868, here are two woodblock prints designed by Kyochika Kobayashi, only some twenty years after Hiroshige's just mentioned print (click to enlarge):
| | |
| --- | --- |
| | |
| Twilight at Hashiba by Kyochika Kobayashi (1880) | Evening View of the Hashiba Ferry, Tokyo by Kyochika Kobayashi (ca. 1880) |
The view in both prints is that of the Hashiba ferry and its landing on the west bank of the river. Plovers are still very much part of the design (whether swimming on the left or flying on the right), but Kyochika has now clearly started combining the Japanese woodblock tradition with the knowledge of western technique and composition that was entering Japan at this time. Especially note how well in his evening view Kyochika has managed to capture the reddish glow cast by the setting sun on the trees, the plovers, and the people on the ferry.
The white roof visible in the distance on the right of the ferry landing in these two prints is probably Massaki Inari Myōjin shrine, see prints 3-10 and 3-11.
---