---
Japanese woodblock prints of Jacques J.F. Commandeur
---
This website displays part of my private collection of Japanese woodblock prints.
---
Looking back, I guess that my interest in Japanese woodblock prints originated from an event that took place when I was still very young. I was living with my parents and three sisters and brother at the Rue Servais-Kinet 15 in Woluwe-Saint-Lambert in Brussels, Belgium. Having been raised in French, on my 7th or 8th birthday mademoiselle Gussenhoven living upstairs from us gave me the comic album ''L'étoile mystérieuse'' (The Mysterious Star) drawn and written by Hergé as a birthday present, an album that I still have (click on the image for a larger view of the album cover):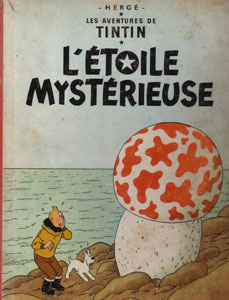 For me, at that age, the album was an absolute revelation: I simply loved it. After fifty odd years of handling the album has become quite battered as you can see from all the fingermarks on the book cover.
From that time on I longed for, and received, more and more comic books - called ''bandes dessinées'' in French - by Hergé, including these two favourites of mine, entitled ''Tintin au Tibet'' (Tintin in Tibet, left) and ''Le Temple du Soleil'' (The Temple of the Sun, right). Both albums became as smudged as ''L'étoile mystérieuse'' from intensive holding and reading (click on the images for a larger view of the album covers):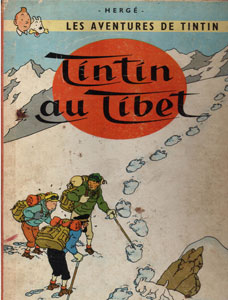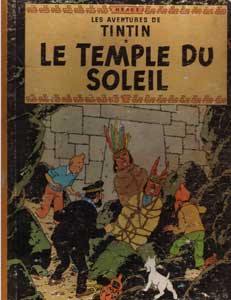 I then became interested in comic books drawn and written by other authors from Belgium and France like Franquin (Spirou et Fantasio) and E.P. Jacobs (Blake et Mortimer). I also vividly remember my first visit to a public library in Brussels: I went straight for the comic books department. Paradise!
Later - in my teens - I found out about the wonderfully drawn comic books by Jean Giraud (alias Moebius), Comes, Christin and Bilal, Francois Bourgeon, Cosey, Joost Swarte, and others - typically aimed at a more adult readership.
And not very long after that - as a young adult - I made another discovery: Japanese woodblock prints ...
---
At this point you may wonder: what relation could there possibly be between these comic albums and Japanese woodblock prints? Well, first of all, Japanese woodblock prints (at least those published in the early Edo era) and western comic books both tend to use black outlines filled in with flat uniform colours, omitting shadows or perspective to suggest three-dimensionality.
Second, take a look at this image taken from Hergé's album called ''Les Cigares du Pharaon'' (The Cigars of the Pharao) where Tintin is saying to his dog 'We are lost, Snowy!':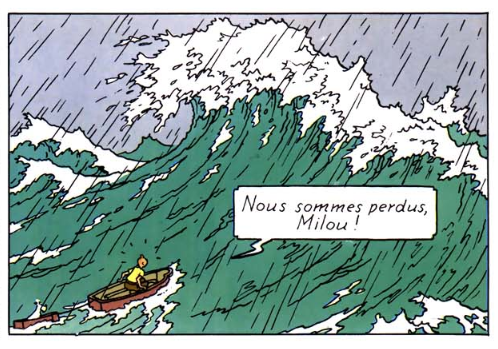 compare it with that most famous of Japanese woodblock prints designed by Katsushika Hokusai: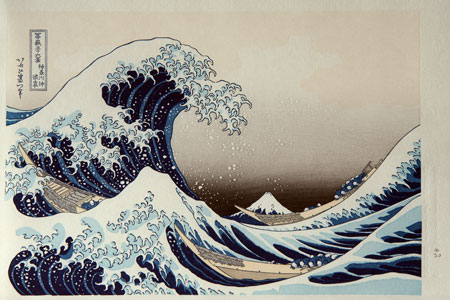 and you will probably agree that the similarities are quite striking ...
It was the Canadian woodblock carver and printer (and now friend) David Bull located in Tokyo (to whose website you will find several references scattered throughout my webpages) who pointed out to me that the temporal order in which I made these discoveries ran exactly opposite to how things unfolded historically: the people drawing the comic books mentioned above were almost certainly inspired by Japanese woodblock print designs. My discovery of the beauty of Japanese woodblock prints has - in that sense - been a reverse journey through time!
---
I do not want to distract you from the actual purpose of this website, which is to share my enthousiasm for the beauty of Japanese woodblock prints, including the wonderful tools and materials used to create them, the books on the making of these woodblock prints, and the books displaying the designs of the artists involved in the process.
As you can see from the menu's shown at the top of this page, I have categorised my prints into the following three distinct Japanese eras: the Edo ('classical') period, the Meiji ('transitional') period, and the Shin Hanga ('modern') period of Japanese history, for reasons that will become clear as you further proceed through the pages of my website.
Even though it is impossible to do these prints full justice in this digital medium as far as special three-dimensional effects like mica highlights and blind printing techniques are concerned - not to mention the fluffy texture of washi, the traditional handmade Japanese paper used in making these prints - I hope you still will enjoy their 'flat' two-dimensional pictures presented here.
---
With the exception of ehon (i.e., illustrated books) all print sizes mentioned on my website are image sizes (not paper sizes), the height of an image always preceding its width.
---
Also check out my second website with elaborate comments on the three wonderfully illustrated books designed by Katsushika Hokusai displaying an (almost) continuous view of both banks of the Sumida river in Edo - as witnessed by Hokusai in Edo times. For the best viewing experience of my second website please use a laptop or desktop computer rather than a tablet or smartphone.
---
Last update: August 14, 2022