---
Meiji prints
---
| | | | |
| --- | --- | --- | --- |
| | Design: | Mizuno Toshikata (1866-1908) | |
| | Album/series title: | Mitsui Gonomi Miyako no Nishiki (Brocades of the capital. The seasons and their fashions.) | |
| | Size: | 24.4 x 17.8 cm (ōban) | |
| | Photography: | Jacques Commandeur | |
---
---
This is the front cover of Mizuno Toshikata's Mitsui Gonomi Miyako no Nishiki album published in Meiji 26 (1893) by Akiyama Buemon.
Title on a red slip on the front cover:
| | | | |
| --- | --- | --- | --- |
| Character | Reading | Meaning | Translation |
| | | | |
| 三 | mitsu | three | |
| 井 | i | a well | |
| 好 | kono(mu) | like | |
| 都 | miyako | capital | |
| の | no | 's | |
| に | ni | | |
| し | shi | | Mitsui Gonomi - |
| き | ki | brocade | Brocades of the capital |
This series of twelve designs was commissioned by the Mitsui Clothing Store. The Mitsui Group (current owner of the Mitsukoshi Department Store and the Sumimoto Mitsui Banking Corporation) originated from the large dry goods store named Echigoya and founded in 1673. It changed its name to Mitsui Gofuku in 1893, and in order to promote its new image it commissioned this series of twelve designs from Toshikata. The Mitsui Clothing Store changed its name again into its current name Mitsukoshi in 1904. Then another edition of this same series was published, this time under the name of Mitsukoshi.
Here is a Hiroshige print from his One hundred famous views of Edo series published around 1857 and depicting what is now known as the Mitsukoshi department store (note the logo consisting of the kanji for mitsu (three) enclosed within the kanji for i (well) rotated by 45 degrees repeatedly depicted on the nori of the shops on both sides of the road) (click to enlarge):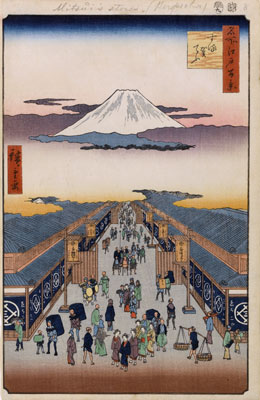 Mitsukoshi department store as depicted by Hiroshige in ca. 1857
This is a picture I took of the Mitsukoshi department store in Tokyo while visiting Japan in April 2018; it is located right next to the famous Nihonbashi bridge (click to enlarge):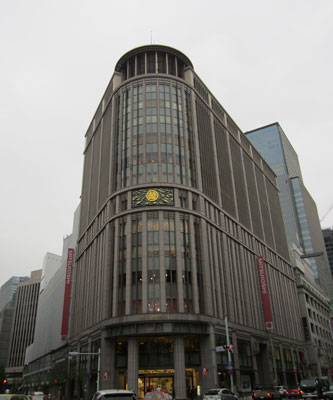 Current-day Mitsukoshi department store at Mitsukoshimae metro station in Tokyo
---
References
Narazaki, Muneshige, ed. (1990). Ukiyo-e Masterpieces in Western collections. The Robert O. Muller Collection. Tokyo: Kodansha International.
Ōta Memorial Museum of Art (1993). Meiji Taishō bijin hangaten. (A woodblock print exhibition of Meiji-Taishō beauties.) Tokyo: Ōta Memorial Museum of Art.
Stephens, Amy Reigle (1993). The New Wave: Twentieth-century Japanese Prints from the Robert O. Muller Collection. London: Bamboo Publishing.
---
Provenance: White Fox Rare Books